The 10th annual Bamboozle music festival will be heading back to Asbury Park this year from May 18-May 20 after spending six years at the Meadowlands Sports Complex in East Rutherford,NJ.
This festival began in 2003 at the Stone Pony in Asbury Park. Headlining bands that year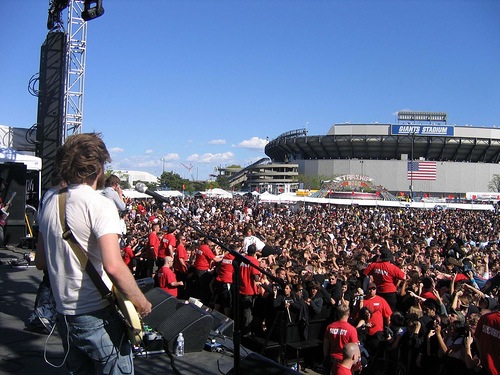 included The Roots, Keller Williams, and Dark Star Orchestra. The original festival had 33 bands on five different stages.
According to their official press release (available on their Facebook page), this years Bamboozle will feature "over 100 acts on over 9 stages spread throughout the beach and boardwalk including the renowned Convention Hall." The festival will also feature a "surf and skate" recreation in Convention Hall, along with family friendly activities and after parties with some of the bands.
The following is a list of bands that have been announced:
May 18: Skrillex, Incubus, Mac Miller, We Came As Romans, The Recieving End of Sirens, Aer, Miss MayI, The Wonder Years, Stray From The Path, Kraeyshawn, WhiteChapel, Aiden Chance, V-Nasty, DJ Prime, Sailesh The Uncensored Hypnotist
May 19: Foo Fighters, Blink 182, Jimmy Eat World, DJ Pauly D, The All-American Rejects, A$AP Rocky, Never Shout Never, The Maine, Motion City Soundtrack, Hi-Rez, Iggy, Azaela, Big Chocolate, The Dear Hunter, Emmure, Skizzy Mars, Hot Water Music, Periphery, Action Bronson, Boy Sets Fire, The Promise Ring, Ballyhoo, Michael Monroe, Anti-Flag, Protector
May 20: Bon Jovi, Linc's Very Special Guest (Band TBA), The Bouncing Souls, Boys Like Girls, Andrew Dice Clay, Catch 22, Outasight, Comeback Kid, Like Moth's to Flames, David Garibaldi, Trapped Under Ice, Folly, Patent Pending, He Is We, Texas In July, Murphy's Law, Riff Raff, Woe Is Me, Bayside, Alesana, Tesseract
Stay with The Verge for the latest additions and details to Bamboozle 2012.