(The Verge)- Monnmouth University's new emerging club, "The Music Alliance," is making headway on campus.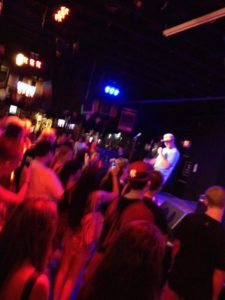 Founded by MU sophomore Andrew Boxman and senior Steve "Slick Chops" Curtis, The Music Alliance aims to recognize all of the underappreciated and unnoticed talent that the students at Monmouth have to offer.
"What we do as an alliance is unify the music industry people at Monmouth, everybody who is an artist themselves, or wants to be a part of the industry.  We work as a cohesive team, establishing goals and finalizing things that we couldn't do alone," says Boxman.
He explains that his vision is, "not easy, but it's simple."  Every artist will establish a marketing and developing project through the help of the Alliance as a unit, regardless of if their individual goal is to sell out Madison Square Garden or become a local celebrity.
The Music Alliance is a fundamental rung of the industry ladder.  Currently, the group has about 25 members that range anywhere from music industry majors to accounting majors, from bag pipers to rappers.  Even if you're not a performing artist, The Music Alliance welcomes all students who want to help this organization grow.
The Alliance is composed of two groups, those in the "think tank," and those who are "on the quest."  The think tank consists of every member in the organization that collectively wants to help build the Alliance into an endless infrastructure.  It is the nuts and bolts of the Alliance that collaboratively construct the marketing and promotional ideas.  Those "on the quest," are the artists who are trying to establish themselves in the industry and are a representation of the Alliance, as well as their own musical talent.
Specializing in artist development and exposure, this club gives the same basic plan for every artist who is interested and invested.  From booking shows, to getting studio time and interviews, the members of The Music Alliance are determined to get every artist as much exposure as musically possible in order to jumpstart their careers, getting them to where they ultimately want to be.  It aims to build upon the existing music industry program by taking control and converting the learning experience into real-world practices.
Boxman believes that Monmouth's music industry program is good…but not sufficient enough.  "It's just scratching the surface of possibilities of what an industry program could be…we could refine the program so much more and create a much stronger foundation," he says.  Boxman paints a vivid picture of a more "foot-in-the-door" type of program where students aren't just learning about the industry, but becoming a sustainable part of it.
Why seclude your musical abilities when you can collaborate with other talents?  That's like Lil' Wayne without Young Money; good as a solo artist but abnormally extraordinary when combined with the YMCMB army.  Vice President of The Music Alliance, Zach Olim, says, "I've been waiting for the opportunity for musicians to come together, actually jam together, and help each other out…When Mr.Boxman came to me with the idea, I had to jump right on it."
Being that The Music Alliance isn't even a semester old, the group has no affiliation with SGA or SAB as of yet.  However, if you would like to check out this new opportunity, the group meets at 2:30 on Wednesdays on the second floor of the Student Center in room 202.  That is a popular time for meetings to occur, so if you cannot make it, check out, "The Music Alliance presents: A Hungry Night," on Tuesday, Dec. 11th, at The Brighton Bar.  Admission is merely a nonperishable food item which will benefit those affected by Hurricane Sandy.