(The Verge) – As of 10:00 p.m., the Seaside Heights department of tourism's Facebook page has confirmed that the devastating Seaside boardwalk fire has been contained. The fire started this afternoon at the southern end of the boardwalk in Seaside Park near the Kohr's Ice Cream stand and the Sawmill Cafe. 
The multiple-alarm fire was contained at Lincoln Ave. and Boardwalk in Seaside Heights at around 10 p.m. The fire is still burning south of this area.
Around 7 p.m., Gov. Christie spoke about how water lines were being run across Barnegat Bay so that the fire could be contained quicker. "I feel like I want to throw up," said Christie. "After all the effort and time and resources that we've put in to help the folks of Seaside Park and Seaside Heights rebuild…it's just unthinkable." Fire companies from Monmouth and Atlantic counties came to help local squads, according to New Jersey 101.5.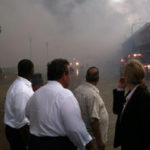 Officials said the boardwalk in Seaside Heights, which was just rebuilt a few months ago after Sandy, was torn up in order to build sand pits to attempt to stop the fire from progressing at Lincoln Ave.
According to The Star Ledger, the following businesses have sustained damage from the fire:
Kohr's Frozen Custard: the apparent epicenter of the fire (All four stands were burnt down)
Park Seafood
Three Brothers from Italy Pizza
Kupper's French Fries
Jack-N-Bills Bar
The Beach Bar*
Funtown Pier Amusements*
Maruca's Tomato Pies (confirmed through Facebook)
The Sawmill Cafe
The Beachcomer
Berkeley Sweet Shop
The Crepe Hut
*Still closed from Superstorm Sandy
Stay with The Verge for more updates.