(The Verge) – Let's face it; living away from home can sometimes be the worst scenario in the world.  Not having all of your things to make you feel nice and cozy in your room can make the dorm/apartment/house you have to call home for the next nine months anything but "homey."
The stark white walls that surround you when you first walk in can make the move even worse.  I can remember walking into my dorm the first day of freshman year and wondering if my parents had accidentally dropped me off at a hospital instead.  Yes, yes, maybe I am being a little dramatic, but I am used to a room filled with colorful paintings that pop on my lime green walls!  I thought I could remedy this situation by taping up a few posters of my favorite bands and movies.  I was mistaken.
Every time I walked into my dorm room I felt like I was walking into just that, a dorm room.  I did not feel comfortable and could not wait to get back to the comfort of my real room.
Throughout the next few years, I realized that I had to do something to stop feeling like I was walking into a dreary dungeon every time I entered my room on campus!  I spent the summer before each year doing what I love the most: crafting (on a college student's budget) and looking at pictures of rooms to get inspiration.
Searching on websites like Pinterest, Etsy, and CraftGawker, I found a ton of easy crafts that anyone could do and started working.  I made wall décor, desk organizers, and other knick-knacks just to place around my room.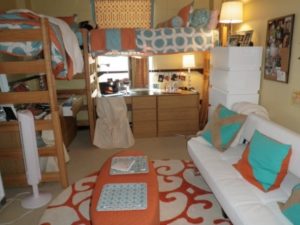 One of my favorite projects was making corkboards out of hot plates from Ikea.  Covering the hot plates with fabric, I was able to make a series of colorful circular corkboards to pin up important reminders and pictures around my room.  The best part is the whole project cost under $5!
Of course DIY projects are not able to remedy every issue…
One of my biggest pet peeves in a dorm room is the lighting; talk about harsh!  Instead of relying on the light in the room, a great alternative is to bring a few of your own lamps that do not scream "dorm room."  I picked up a standing lamp from Ikea to use as my main lamp and then a few smaller lamps to place around the room.  (They made it much more welcoming and helped to create a heavier feeling of warmth, and not of a temporary, barren dwelling).
The best advice when deciding what to do with your room is to think of it as an actual room rather than a dorm room.  If you would not hang up a poster without a frame in your room at home, then do not do it here either!  Living away from home can be rough, but making your room a place you want to be does not have to be!