WEST LONG BRANCH, NJ- A week after a simple dress had people around the world sharing whether they see black and blue or white and gold, a new Salvation Army ad featuring the viral frock has people from both camps seeing the light. On March 6, the South African branch of the international charity organization released the first of a two-part ad campaign to raise awareness for domestic violence.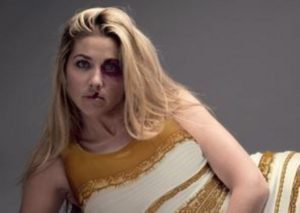 In the first ad posted, a woman poses on her side, donning a decidedly white and gold version of the viral Roman Originals dress along with a black eye and bruises on her legs. "Why is it so hard to see black and blue?" asks the ad's text. "The only illusion is if you think it was her choice. One in 6 women are victims of abuse. Stop abuse against women."
The second ad released shows a woman applying makeup next to a headline that serves as an answer to the question posed in the first ad—"Because they cover it with white and gold."
According to The Washington Post, the ad was created by specialist communications and ad agency Ireland/Davenport in the South African capital of Johannesburg. It was given to the Salvation Army and subsequently posted on its Twitter page at a crucial time when domestic violence is getting more coverage in the media, keeping company with the recent Super Bowl commercial and Women's Aid billboard campaign on the topic.
Overall, reactions to the Salvation Army ad seem to be positive among students on the Monmouth University campus.
Caroline Keating, who is currently the Editor for Monmouth's chapter of community service organization Circle K International, does not question the Salvation Army's genius, timely move.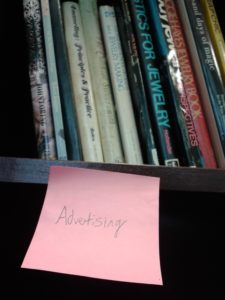 "I think that the ad was a very smart decision by Salvation Army," said Keating. "With so many media users going crazy over whether the dress is black and blue or white and gold, using that idea for an advertisement can really grab the viewers' attention."
The ad truly did grab the attention of users online. Less than a week after its reveal, it already had 17,000 retweets.
As a Communication major, senior David Morris studied topics like advertisements and domestic abuse under Professor Jennifer Shamrock. Applying what he learned in her in Gender, Race, and Media class last semester, he echoed Keating's statements, lauding the ad and its ability to transform what he considers a trivial Internet meme into something meaningful.
"I think it's a positive thing," said Morris. "Similar to the Ice Bucket Challenge, it uses an idiotic social media fad in order to bring attention to real world issues. Especially with this generation of narcissists, references to social media are becoming more commonplace in campaigns to raise issue awareness."
Unlike Keating and Morris, however, there were others who saw red upon discovering the ad. Users online lambasted the ad on social media for what they consider its blatant use of shock tactics and its feeble attempt to ride on the coattails of an Internet sensation that has reached maximum viral status.
Natalie Collins, a writer for religion-centric news source Christian Today, is one of these challengers. She took her disapproval to the web, arguing that while the ad has garnered much attention, it has only really made talking about the issue "fashionable."
"The advert has got people talking about domestic abuse," said Collins. "But it hasn't in any way changed the conversation about abuse…It hasn't enabled people to understand the issue more or challenged the myths about abuse."
Whether or not this is true, the Guardian reports that there is a good chance people will be seeing the use of social memes and shock tactics as the mainstream in advertisements of the near future.