WEST LONG BRANCH, N.J.–On the morning of Monday, March 21, most New Jersey residents woke up to a few inches of heavy, wet snow. In Long Branch, snow totals peaked at about 3 inches. Most of the snow melted by noon that day and did not stick to road surfaces at all, but it served as a reminder: even though it is officially spring, we are not necessarily done with snow.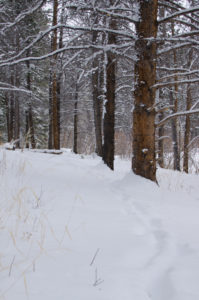 "The last thing I expected was snow during the first real week of spring," said Monmouth University junior Will Saulsky.
The unexpected snow was all courtesy of the latest named winter storm, Winter Storm Regis. Regis started its track east after dropping almost 2 feet of snow on areas of Colorado and the Rocky Mountains as of Friday night, March 18.
As the storm affected the Denver Metro area, it met the Weather Channel population requirement for named winter storms and was named Regis, according to Wunderground. This meant good things for ski resorts outside Denver, located in the northern Rocky Mountains along the Continental Divide. The storm came on the heels of a week of snow in this area which dropped more than 3 feet at some ski resorts.
Similar to conditions on the East Coast before Regis arrived, most of these areas of Colorado had received no new snow in over a month, with the last major storm system moving through the area in late January. Ski conditions through February slowly deteriorated, with early March conditions suggesting an early start to the spring skiing season.
However, the weather had other plans. By the time Regis hit, winter was already back, and resorts like Breckenridge reported four powder days in a row.
After dumping on Colorado, Regis moved across the High Plains over the weekend. Thanks to a low-pressure area stemming from the Great Lakes, colder temperatures began first as snow pushed as far east as Ohio by Saturday morning. Up to this point, some sources were forecasting eight inches for East Coast areas. By early Sunday, the storm had reached the Appalachians and was poised to drop snow on coastal areas of New Jersey as well as the New York City Metro area by that night.
Temperatures were initially too warm for any accumulation. But as the sun set, everything lined up.
Due to a low-pressure area which ended up farther offshore than initially anticipated, the storm tracked more out to sea instead of close to the coast. As a result, snow totals were closer to 3 inches in New Jersey and New York coastal areas, with the heaviest snow falling in New England in coastal areas of Maine, New Hampshire, and Massachusetts. Most East Coast ski areas received little snow because of this.
"If this storm had dropped a bit more snow, the East Coast ski season might have gotten some new life," said Monmouth University sophomore Caitlin Murphy. "But it was still nice to watch the flakes fall."
There may still be hope for those wanting a little more winter weather. Another named winter storm called Selene tore through areas of the western United States early this week, dropping almost 3 feet in some areas of the Front Range in Colorado, according to Wunderground. This storm has moved east as well, and as of today, areas of northern New York, Vermont, New Hampshire, and Maine are under winter weather alerts. Forecasts are calling for up to 6 inches in some of these areas.
That being said, if you want a little more winter, it's time to head north. Otherwise, you'll have to trade in your snow gear for shorts and sunglasses, as it seems the warm weather is here to stay!